Wolverines in the Tank: Sharks & Start-Ups





The Ross Entrepreneurs Group cordially invites you to our Summer 2015 event: 'Wolverines in the Tank: Sharks & Start-Ups'.

Come witness a group of exciting start-ups make their pitch to seasoned New York investors. Learn how to present an effective elevator pitch and handle investor Q&A like a pro. In addition, you'll have time to meet & mingle with the Ross School of Business entrepreneurial community of New York City. Light hors d'oeuvres will be served.

Wednesday, June 17, 2015
6:00 p.m. - 9:00 p.m.
Papillon Bistro, 22 East 54th St, New York, NY 10022


---

Moderator:
Larry G. Halperin - Partner, Chapman and Cutler LLP
Larry Halperin is a partner in the Banking Group and the Litigation, Bankruptcy and Restructuring Group, and Co-Office Leader of Chapman's New York office. Larry focuses his practice on financial restructuring of distressed companies, high yield and distressed debt transactions, commercial lending transactions and event-driven mergers and acquisitions. He typically represents agents, private funds, investment banks and financial institutions in connection with their investments in, and financings transactions to, mid-cap companies. Larry has counseled clients who desire to acquire portfolio companies in need of restructuring by acquiring a majority of the distressed debt. Larry received his B.B.A from the University of Michigan, with distinction and his J.D., cum laude, from the University of Pennsylvania Law School.

Investment community participants:

Peter Borish – Chief Strategist, The Quad Group
Chief Strategist of the Quad Group and its affiliated companies. In his role Borish is highly engaged in recruiting new talent for Quad and working with the founding partners on business strategy. In addition, he is instrumental in helping traders develop a methodology to enhance their performance by serving as a trading coach. He is also Chairman, and CEO of Computer Trading Corporation (CTC) and an investor and member of the board of directors of Charitybuzz. Borish formerly worked at the Federal Reserve Bank of New York, was founding partner at Tudor Investment Corporation, was Chairman of OneChicago, LLC, and is a trustee of the Institute for Financial Markets, He is also a founding board member of both the Robin Hood Foundation and Math for America. He holds a Masters in Public Policy and a B.S. in economics from the University of Michigan.

KJ Singh - Director, Techstars, NYC
In his current role, KJ sources and screens hundreds of startups as a member of the program's selection committee. During the program, he advises companies on product/market fit, growth hacking, fundraising and other strategic issues. Prior to Techstars, KJ was a management consultant with Booz & Company in NYC. In his past life, he was an investment-banker with Redwood Capital Group, a NYC-based Technology, Media, Telecom focused boutique investment bank. KJ started his professional career with JPMorgan and holds a BBA from the University of Michigan and an MBA from Columbia Business School.

Adam Carver - Principal, MESA Ventures
MESA Ventures is a seed stage venture capital based in NY, LA and SF. At MESA, Mr. Carver searches for gifted entrepreneurs and equips them with the resources, connections, and encouragement to grow and prosper. Adam also loves spending time in the outdoors and taking workout classes with startup people to see how tough they are. Adam holds an MS/MBA from the University of Michigan.

Participating start-ups:

Travelers Connect : http://travelersconnect.com
Travel Like a Local, Travelers Connect brings the world's first geo-location based app to connect Travelers with Travelers and Locals in REAL TIME, and give free travel rewards for just using the app
Shama Zehra, Cofounder & President
Shama is a serial entrepreneur and has built several successful businesses and products in technology, financial services and fashion space. Shama began her career as one of the youngest female entrepreneurs in Pakistan where she started a women apparel firm with her mom and sister, grew it to a factory and three sales channels over few years, and successfully sold it at the age of 19. Shama's passion for travel and technology led her to brand the first frequent flyer credit card in Pakistan, spearhead mobile and IVR applications in early 2000's in South Asia (pre-US market adoption) and take flying lessons aspiring to be the second female pilot in Pakistan. Shama's entrepreneurial vision has been the subject of cover stories on Forbes, Crains, and other publications. Shama holds two MBA degrees: one in Finance & Strategy from Michigan Ross, and the other in International Business from IBA Karachi (the oldest business school outside North America to offer MBA degree, formed in affiliation with Wharton, University of Pennsylvania).

PushTime : http://flypushtime.com
Fly Private, Pay Commercial. PushTime fills empty leg charter flights at discount rates through partnerships with online travel agents.
Mike Newman, COO
Mike has founded multiple startups; most recently Mike was founder and president of stkr.it, a software company dedicated to building tools to bridge the digital and physical worlds. With stkr.it, Mike integrated his technology into products sold at Wal-Mart, Target, Staples and beyond. In 2015, the stkr.it platform was adopted by a leading yearbook publisher for inclusion in their 1.2 million yearbooks. Mike has been a technology expert for more than a decade, and has been featured on The Today Show, NPR, and The History Channel's Modern Marvels as well as in The New York Times, Associated Press and more. He earned an MBA from the Ross School of Business in 2003.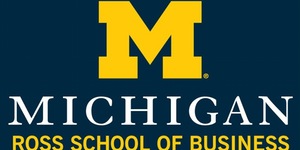 The Ross Entrepreneurs Group is an initiative aiming to help Ross School of Business alumni and friends pursue their entrepreneurial interests. Our mission is to nurture entrepreneurship by bringing together current and aspiring entrepreneurs, coaches/mentors and the investment community.